2010 State Cup Schedules and Results

Great Season Sunrise Fire 92/93

Sunrise Fire U17 girls completed their 2009/2010 season last weekend with a victory at the PDA Showcase in New Jersey. As the only Florida soccer team to get accepted into this top ranked event, Sunrise won all three matches and captured the title of 2010 PDA Champions this past Memorial Day Weekend. With victories over Ohio Premier, So Cal Blues & Jersey United Strikers, Sunrise secured its tournament victory with 27 total points, scoring 8 goals and allowing ZERO! With over 300 college coaches in attendance our girls put on a very nice showing and Coach Gus could not have been more proud of his girls! more

Space Coast United Under-15 girls' soccer team wins State Cup title


Space Coast United's under-15 girls' soccer team captured the Florida State Cup tournament championship with a 2-1 overtime victory over Brandon on Sunday in Auburndale
After a scoreless first half, Space Coast took a 1-0 lead on a goal by Jackie Stengel, but Brandon tied it at 1-1 with three minutes remaining in regulation.
Three minutes into overtime, Stengel scored again. more


Cote Ousted From RSL
Jim Cote is no longer the Girls Directors of Coaching for RSL Florida Soccer Club after being asked to resign by the club's Board of Directors earlier this week.

Cote, whose girls under-18 side went 4-0 in the Predator division of the Disney Soccer Showcase last week, said he was shocked when the board asked for his resignation. Cote became the DOC when current University of Tampa head coach Adrian Bush resigned his position with the club in August 2008.

"When I took over for (Bush), the club had started to falter a little bit," Cote said. "They asked me to step in, I stepped in, there were still major concerns at the club, and I did what I was asked to do. I hired seven new age-group coaches on the boy's side, I put in coordinators to make the training under the proper structure. You're going to ruffle some feathers along the way because it's part of the job. People aren't going to want to just change, but you have to change in order to be able to develop.

" more


Lombard, Zwetsch, Carter lift RSL to Disney title

LAKE BUENA VISTA– RSL Florida's girls under-18 team got a pair of goals in the opening seven minutes from Zoe Lombard and a pair of excellent finishes from Connor Zwetsch in the second half as it rolled to a 5-0 victory against the Clearwater Chargers in the final of the Disney Soccer Showcase on Sunday afternoon at the Wide World of Sports Complex.

Lombard gave RSL the lead in the second minute, capitalizing on an excellent pass by Niki Carter to fire home. Lombard then latched onto a through ball into the right channel in the seventh minute, rifling her shot home from just inside the penalty area.

While Lombard scored the goals, the manner of Carter's assists drew praise from RSL coach Jim Cote.

"They were just incredible assists," Cote said. "Two at the beginning if it and then one to Connor at the end."

Clearwater coach Mike Mannino said he thought giving up the early goals was too big a hole for his side to dig out from, especially against a team of RSL's quality. more




Cleveland Downs RSL, 2-1
TAMPA, FLORIDA – RSL Florida took an early lead on a brilliant effort from Conner Zwetsch in their U17 Girls Championship showdown with the Cleveland Internationals on Tuesday morning at Ed Radice Park in Tampa, Florida. But the goal steemed to awaken an experienced Internationals team, who would go on to claim their second North American Title in three years, 2-1 on the strength of goals by Kate Allen and Megan Gallagher.
The match played evenly until the 15th minute, when a ball played over the back line of the Internationals was run down by RSL forward, Zoe Lombard. The forward collided with Cleveland goalkeeper Rachael Middleman just as she reached the ball and the netminder did well to keep the game level. more
RSL Advances to Super-Y Semi-Finals
LAND O' LAKES – RSL Florida's girls under-17 side moved into the semifinals of the United Soccer League's Super-Y North American Finals as a strong opening 25 minutes led to a 3-0 victory against the West Michigan Fire on Saturday afternoon at the Land O' Lakes Recreation Center.

RSL was the sharper side to open the game, controlling possession well, cleaning up loose passes from the Fire while getting to 50/50 challenges quicker. The last of those factors also led to numerous free kicks going RSL's way, as the Fire were often late in the challenge. That appeared to cause frustration among the Fire's players and coaches, which was only exacerbated when RSL was awarded a penalty in the 19th minute when Thea Linkfield was pushed down from behind in the penalty area. Jordan Johnson stepped up and side-footed her shot into the right corner to give RSL the lead. more
Team Boca u17 Region 3 Premier League Champs
Congrats to the nationally ranked Girls U17 White team who finished the Region 3 Premier League on Saturday with a 5-0 domination of Sunrise Fire. With a record of 9-1-1 the girls are in first place in one of the most competitive leagues in the country. more
As Girls Move On, Team Says It's Been a Kick
WINTER HAVEN | After six years and two trips to their league's championship game, Winter Haven Kicks team members and the coaches who guided them are about to go their separate ways.

Most of the players on the under-18/19 competitive soccer team will soon be too old for the USA League and head off to college.

"I feel sad about it," said Kristen Weeks. "The team's probably not going to exist next year."

For a team that was formed from a recreational All-Star team six years ago, the Kicks have come a long way. Six players remain from the original group. more
Soccer Star Loses Leg In Accident
ORLANDO, Fla. -- Sadness gripped the family and friends of a local soccer star on Wednesday.
Breanna McMahon

Breanna McMahon earned a college scholarship for her excellent play, but she'll never be the same. One freak accident during a car wash fundraiser changed that.

McMahon had been offered a scholarship to play soccer at a college in North Carolina, but she is now at Orlando Regional Medical Center breathing on her own for the first time since the accident on Saturday.

McMahon is still not able to communicate with her parents, so she is unaware that doctors were not able to save her left leg.

"Bree will light up a room. She is just an amazing young lady," Brenda Newman said. more
Soccer commitment proves time consuming
The life of a high school soccer player seeking championships and scholarships bears little resemblance to what a normal student experiences. It also might be a bit more expensive.

Weekends — in and out of season — often consist of sleeping in hotels or playing back-to-back games. Nights are spent training, and summers often consist of crashing in vacant college dorms for technical camps.

Whether a player is part of the high school team, joins one of the area's elite teams or participates in an Olympic Development Program, much time is spent training, practicing and gaming, which ultimately affects social lives, family commitments and college choices. In high school, it starts with the preseason where time is set aside up to three times a day to test players' talents, fitness and potential through running, agility and technical tests.
more
Storm girls take 2nd at Youth Soccer National Championships
The Ponte Vedra Storm U16 girls soccer team finished No. 2 in the country at the U.S. Youth Soccer National Championships in Lancaster, Mass., on Sunday. It marked the best national placement for a Florida U16 team in 14 years.

"It's a pretty amazing feat, what they accomplished," said Storm coach Luis Torres, who doubles as an assistant for the University of North Florida women's soccer team. "I just felt they were so focused and mentally and physically prepared to go do this."

The team is comprised of Annie Bobbitt, Alli Brashear, Morgan Brian, Noel Crane, Theresa Diederich, Madeline Forrestel, Allie Gerry, Madison Hartley, Tyler Law, Ansley Morgan, Brooke O'Hare, Carson Pickett, Gabby Ragazzo, McKenzie Ryan, Kaili Torres, Sarah Voigt, Nicole White, head coach Luis Torres and assistant coach Mike Pickett.

Getting to the national championship was a three-legged journey: a state championship, a regional championship and finally a six-team national tournament. more


Ponte Vedra Storm U-16 Girls Make History!
PONTE VEDRA, FL; June 26, 2009 – The Ponte Vedra Storm under 16 Girls soccer team made history yesterday in Dallas, Texas defeating the Georgia state champions 2-0 to claim the title of Region III Champions. That makes the Ponte Vedra Storm the first team in North Florida to ever win a Regional Championship, and to have earned the right to represent Florida in the National Championships on July 21-26 in Lancaster, MA. Just recently in May, the Storm won the Florida State Cup Championship which is the first leg of the U.S. Youth National Championship Series. The Southern Regionals is the second leg of the series and it is where all 12 of the State champions meet to see who will be the best in the region and represent those states at Nationals which is the third and final leg of the series. "There are over 350 premier level teams that start out every March at the state Cup level and only one goes to Nationals. It is a very difficult thing to do and something that the girls should be very proud of and extremely excited about," said Head Coach, Luis Torres. more
2009 Region III Champs!!!! Ponte Vedra Storm u-16
Congrats!!!! We are Proud Of You!!!!

Roster and Coaches
Luis Torres Coach
Pauline Gerry Manager
Mike Pickett Assistant

01. Sarah Voigt GK 02. Morgan Brian mid 03. Ansley Morgan def 04. Theresa Diederich def

05. Brooke O'hare for 06. Nicole White mid 07. Kaili Torres for 08. Alexandra Gerry mid/for

09. Hayley Flynn 10. Kathlene Bobbitt Center Back, Mid 11. Tyler Law mid 12. Lauren Mckenzie Ryan

13. Gabrielle Ragazzo for 15. Madeline Forrestel def 16. Carson Pickett Defender

17. Allison Brashear Forward 24. Anna "Noel" Crane def. 33. Madison Hartley Defender

Southern Regional
US Youth Soccer Region III Championships Continue

FRISCO, Texas (June 20, 2009) – The US Youth Soccer Region III Championships continued today at Pizza Hut Park in Frisco, Texas, and Russell Creek Park in Plano, Texas. More than 185 games have been completed and tomorrow's action will decide the 48 teams earning berths in quarterfinal brackets (Sunday). Tomorrow's matches begin at 8 a.m. (CST) and continue throughout the day with the final matches beginning at 6 p.m.
In Under-14 Boys action, CASL Elite (NC) and South Florida Elite FC 94/95 (FL) won for the second straight day, setting up a big match between them on Sunday, the final day of round robin play. CASL prevailed 6-1 over BUSA 95 Elite (AL) after getting two goals from Jonathan Bennett. South Florida's 6-1 win over Tulsa Thunder 95 Black (OK) was equally impressive as six different players found the back for the net for the Florida champions.
James Gross had a hat trick for Tulsa TSC 91 (OK) in an 8-0 win over NOKC Padova 91 Red (OK) in the Under-18 Boys division. Gross found the back of the net in the 30th, 73rd and 77th minutes for TSC, who is now 2-0 in round robin play and has outscored their opponents by a 10-1 margin.
more
Chase for the US Youth Soccer Region III Championships
Kicks Off with a Bang


FRISCO, Texas (June 19, 2009) – Defending 2008 US Youth Soccer National Champions, Dallas Texans 91 Red (Under-16 Girls), Dallas Texans Red 92 (Under-17 Girls), Dallas Texans 91 Red (Under-18 Girls), Dallas Texans 92 Red (Under-17 Boys) and Andromeda 91 (Under-18 Boys) kicked off the 2009 US Youth Soccer Region III Championships today at Pizza Hut Park in Frisco and Russell Creek Park in Plano, suburbs of Dallas.

Preliminary games are played at both complexes through Sunday, June 21. Quarterfinals will be played on Monday, June 22, at Pizza Hut Park. Semifinals and finals will also be held at Pizza Hut Park on Tuesday, June 23, and Wednesday, June 24. more


East Lake girls soccer squad earns title




The Tampa Bay area, and especially north Pinellas County, has long been a power in club soccer. That held true last weekend at the Florida Youth Soccer Association's Florida State Cup tournament in Wellington.
The East Lake Arsenal and Clearwater Chargers under-13 girls teams advanced to the final. East Lake defeated Clearwater 2-1 to claim the championship.
The tournament started with 28 teams in group play on March 21 in Naples. Both area teams advanced to play in second-round games on April 4-5. Then came the round of 16 in Miami on April 18-19.
To get to the final, the Arsenal defeated West Pines United 2-1, the Chargers defeated FC America Soccer Club 1-0. more


Island Coast ousted in State Cup semifinals



WELLINGTON — Despite the final score, all of the news wasn't bad for the Island Coast Soccer Alliance U-18 girls soccer team on Saturday morning in Wellington.

Sure, Island Coast's goal of winning a State Cup in the U-18 division ended with a 5-0 semifinal loss against Team Boca 90/91 White at Pierson Park.

But nearly all of Island Coast's line-up played up an age bracket this season, so that means most of the team -- including Cypress Lake High's Desiree Meyer and Sarah Yates -- is eligible to return as bona fide U-18s next spring.

Island Coast coach Jamie Byers hopes his team -- which is comprised of high school juniors and seniors from Lee and Collier counties -- will use the setback as motivation for next season.

"It will be good for the kids next year to take that emotion now and relay it into practice so that they work harder. Hopefully with the 12 kids we have coming back next year and when we compete at the appropriate age level, we should be OK," he said. more


Questions Players and Parents Should Ask at Try-outs
It's almost June and that means tryouts for club soccer teams. There are a few select regional-quality teams that can pick and choose the cream-of-the-crop players. But in general, soccer teams are a buyer's (players/parents) market. Teams need players more than players need teams and players can exercise their power by moving to a team that closely fits their needs.
With that in mind I have a list of questions that players and parents should be clear on before accepting a spot on a club soccer team.
I intend no disrespect to any team. I do think that players who are offered a spot on a team should know for sure what they are being offered. And I think most teams and coaches will be truthful and forthcoming. Most coaches really want the players to know so there are no misgivings later in the season. If the answers are vague or the team/coach doesn't respond, players and parents should take that as a warning flag and look for another club/team. The critical point is to find a team that is a good fit for you.
Here are the important areas of concern and some questions to ask. more

Auburndale searching for sponsors for sports complex




AUBURNDALE - Auburndale city commissioners decided at a meeting Monday to allow a search for corporate sponsorship of the Lake Myrtle Sports Complex. They also decided to extend a contract for lighting of the soccer complex and reviewed the city's capital outlay budget for the next two years. more


Local U-18 girls club team advances to state Final Four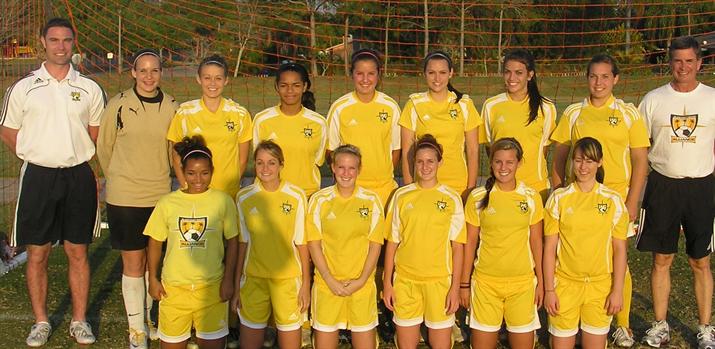 The Island Coast Soccer Association U18 girls soccer team has advanced to the state's Final Four.

Over the weekend, the ICSA team defeated Lake County, 2-0, in the Florida Youth Soccer Association State Cup's Round of 16. Sarah Yates scored off a corner-kick play from Sophia DaSilveira. Yates also scored the second goal, on a cross from Christine Giles. Makenzie Vance recorded the shutout.

In the Elite Eight, ICSA beat Florida Rush out of Orlando, 2-1, when Giles kicked in a rebound off the Rush goalkeeper in the second half. Yates scored the first goal on a cross from Jamie Lockie just before halftime.

ICSA will face Team Boca from Boca Raton on Saturday, May 16 in Wellington. RSL of Tampa and First Coast KYX of Jacksonville are the other semifinal teams. more


Team Boca Leads the state with the most Girls Teams in the State Cup Final Four!

April 20, 2009 (Boca Raton, FL) - Team Boca, the travel division of the Soccer Association of Boca Raton (SABR), had five of its premier level youth soccer teams win the two-game Challenge Round of the prestigious Florida Youth Soccer Association (FYSA) State Cup Championships, held in Palm Bay and Miami on April 18-19.

The victories earned its Boys Under 14s, and Girls U-14s, U-16s, U-17s, and U-18s, a coveted spot in the Final Four Championships, which will be held May 16-17 in Wellington. The Florida State Cup is the highest-level youth soccer tournament in the state, which qualifies each age group winner an entry in the United States Youth Soccer Region 3 Championships, which will be held on June 18-24 this year in Dallas, Texas.

The champions in the Under-14 through Under-19 age brackets from each regional event and the US Youth Soccer National League will travel to Lancaster, Massachusetts on July 21-26 to compete for the coveted national championship. more

SWFL United kicks off camps with Naples' Juergen Sommer speaking
NAPLES — Former United States National Team goalkeeper and part-time Naples resident Juergen Sommer spent part of his spring break on Tuesday talking about what he loves most: soccer.

To a group of players gathered at Barron Collier, set to participate in this season's SWFL United Soccer Academy, Sommer discussed what is expected of them to make the most of their soccer careers. A number of the players in attendance come from Academy directors Ray and Dwight Morgan's area high school programs -- the Barron Collier girls and Golden Gate boys teams.

"It's important to hear him talk about progression and having him help here is good experience," said Brett Wiesen, a freshman keeper for Barron Collier. "I played on the academy team against a U-18 team and it helps to play against some of the bigger players and teaches you not to be afraid."

The academy's senior session will run from April 13 (boys) and 14 (girls) until Aug. 5 and 6. The academy's junior session picks up on May 11 and also finishes on Aug. 6.more
12 Rush Teams Advance to State Cup Challenge Round
Orlando, FL: In an unprecedented result following the final weekend of qualifying competition for the FYSA (Florida Youth Soccer Association) State Cup, the Florida Rush advanced 12 teams to the Challenge Round of 16. In each State Cup age bracket (U13 to U18) of both boys and girls divisions, a Florida Rush Team qualified to compete in the final rounds of the tournament. In order to achieve this position, each team had to win between two and four games in up to two qualifying rounds against teams paired by the FYSA. This placement signifies that each of the 12 Florida Rush teams is currently four victories away from a state championship. more
Naples Youth Soccer U-11 girls win state title
The Naples Youth Soccer 11-and-under girls were crowned state champions last weekend, winning the Florida Youth Soccer Association's Division II title March 29 in Jupiter.
After winning the Region C championship the previous week, the Naples team took on the Kendall Hammock in the state semifinals March 28. Goalkeeper Iyana Johnson recorded a shutout, as Naples won 1-0.
The championship match was a rematch of the Region C final against the Manatee Magic. Manatee took a 2-0 lead at halftime before Naples charged back to win 3-2. Tatiana Zuoluga scored all three of Naples' goals in the second half, getting assists from Hannah Holzer and Mckenzie Pearson. more
The US Youth Soccer Show Kicks Off on April 10
Check out the Fourth Season of the show only on Fox Soccer Channel

April Show Times*
Friday, April 10 @ 6 p.m. ET (Premier)
Monday, April 13 @ 5 p.m. ET
Friday, April 24 @ 6 p.m. ET
Monday, April 27 @ 5 p.m. ET
*Subject to change. Check your local listings

US Youth Soccer's monthly program, The US Youth Soccer Show, brings viewers in depth with US Youth Soccer events, players, coaches and more. The 30-minute show airs only Fox Soccer Channel.
Local U-17 girls club team advances to state Sweet 16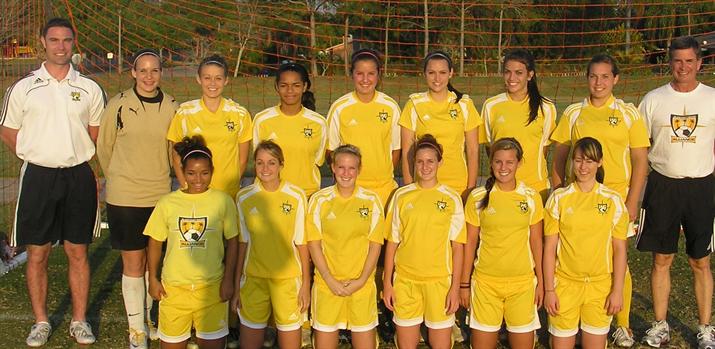 The U-18 girls of the Island Coast Soccer Alliance are moving on to the Florida State Sweet 16. The team outscored three opponents by a combined 10-0. Goalkeepers Lisa Monteith of Fort Myers High School, and Makenzie Vance of Riverdale recorded shutouts.
The U-18 team beat Leg-A-Z- from Gainesville, 6-0, Everton from Tampa, 1-0, and Flagler, 3-0. The team will move on to Palm Bay on April 16 for the Sweet 16 as a top bracket seed.
Players: Baker -- Christine Giles; Barron Collier -- Jamie Lockie, Sophia DaSilveira; Bishop Verot -- Kayley Clay, Megan Barton, Cailyn Rizzo; Cypress Lake -- Sarah Yates, Desiree Meyer, Jessica Minor; Fort Myers -- Lisa Monteith; Mariner -- Brittany Harris; North Fort Myers -- Ashley LaPierre; Riverdale -- Amanda Williams, Makenzie Vance; Seacrest Country Day -- Sloan Percival, Larissa Yashko
Coaches are Jamie Byers and Larry Scott
Miami Lakes Soccer Club U12 win FLUGSA Championship
The Miami Lakes Soccer Club U12 girls team won the FLUGSA division championship. Pictured from back row, left, are Yarisbeth Bradfield, Emily Tarasiuk, Abigail Clanton, Kayla Marques, Amanda Perez, Alexis Rodriguez, Brittany Hogan, Camila Nunez, Naomi Ramsey and Yasmeen Wood; front row, Amanda Montana and Juliette Dubon.
U11 girls' soccer team wins Weston Tournament
The Kendall Hammocks U11 girls' soccer team recently went undefeated in the Weston Tournament. Top row, left, are coaches Ruben Rodriguez, Robinson De Lahoz and Ruben Galindo; middle row, Andrea Gomez, Alexis Vargas, Brianna Stewart, Erika Ligonde, Stefanie Galindo and Nikki Sismanidis; bottom row, Harley Garcia, Cristina Salabarria, Brianna Delahoz, Sophia Larson, Vivian Calderon and Carina Rodriguez.
Rebels girls' soccer team ends season on top
The South Kendall Soccer Rebels U13 girls soccer team finished the season 12-0-4 in the Florida United Girls Soccer Association. Seated in front are goalie Safiyah Baxter; front row, left, are Kristi Perlberg, Alexandria Cinney, Carolina Perez, Jennifer Del Castillo, Alexia Polo-Robinson and Sophia Barbara; back row, Jessica Miranda, Nicol Colonna, Kelsey deLisser, Isabella Loret de Mola, Alina Verdeja, Khara Vassell and Jayda Hamilton.
Lightning U13 girls are Weston Cup runners-up
The Kendall Hammocks Lightning U13 girls team placed second in the Weston Regional Soccer Cup on Feb. 16. Pictured from front row, left, are Keyla Jenkins, Ashley Espinosa, Geena Veliz, Jessy Rojas, Shannon Portuondo, Amanda Horgan, Krysten Callero, Emely Estrada and Andrea Urutia; back row, assistant coach Mario Naranjo, Isabella Naranjo, Andrea De Varona, Natalie Anderson, Natalia Rodriguez, coach Ralph Espinosa, Ana Jenkins, Patricia Pinckombe, Stephany Cabreja, Rebecca Colon and assistant coach Freddy Rojas.
U10 girls' soccer team is undefeated
The West Kendall U10 girls soccer team finished the season undefeated. Pictured from front row, left, are Cristina Bichara, Ashley Siles, Nicole Bovo, Theresa Brimo and Samantha de Varona; middle row, Briana Austin, Gabriela Serrano, Christine Valdes, Lauren Diaz and Gabrielle Austin; back row, head coach Sandra de Varona and assistant coach Gerry Trujillo.
Team Boca Dominates Girls Florida High School Soccer Championships
2/10/09, Boca Raton, Fl... Dominating the High School soccer scene has become a tradition for players from Team Boca, the Travel Division of the Soccer Association of Boca Raton. This year's Florida State Championship Final Four will once again field more players from Team Boca than any other travel soccer club in the state. Of the five High School size classifications, only the 5A championships will not include a Team Boca player in the Final Four. All of the remaining classifications, 2A, 3A, 4A, and 6A include Palm Beach County teams which predominantly consist of Team Boca players. more
Space Coast United U-15 Elite Girls Are Gator Showcase Champions
Having only 11 players on their roster, the Space Coast United U-15 Girls Elite Storm team emerged victorious over President's Day weekend at the Gator Soccer Showcase in Gainesville, Florida. The team played up an age group in the U16/U17 division to gain some valuable playing time prior to State Cup. The Storm won all 4 of their games and only gave up two goals the entire tournament. They even played the final game with only 10 players. The bottom line is that the girls overcame several obstacles and fought hard to bring home the hardware. more
Bartow Soccer Fares Well in All-Star Tourney
The Bartow Soccer Club had seven of its 11 teams reach the Polk County All Star soccer tournament finals.
Three won titles.
The Bartow Blue team claimed the under-14 girls' Polk County All Star division title with a 2-1 victory over the Lakeland F.C. South team in a shootout. more
U-13 Rebels place second in Orange Classic International Girls Soccer Tournament
The South Kendall Soccer U-13 girls team, The Rebels, competed in the 28th annual Orange Classic International Girls Soccer Tournament, defeating the Tropical Orange Crush in the semi-finals but losing to the New York Soccer Patriots for the championship. Pictured from front row, left: Isabella Loret de Mola, Jennifer Del Castillo, Carolina Perez, Safiyah Baxter, Kristi Perlberg, Alexandria Cinney and Alexandra Taylor; back row: Kelsey deLisser, Nicol Colonna, Carrie Davis, Jayda Hamilton, Marli Baptiste, Danielle Frese, Jessica Miranda, Khara Vassell and coach Andrew Vassell.
Miami Premier girls' soccer team finishes 3-1 in Orange Classic International Soccer Tournament
Miami Premier Soccer Club's 15-under girls' team finished 3-1 in the 12th annual Orange Classic International Soccer Tournament. Pictured from back row, left: Kaitlyn Falcon, Cece Rios, Becky Ellis, Ali Stevens, Jamie Hunter, Jasmine Debk, Kelli Griffiths, Ashley Martinez and Erika Avanic; front row: Angie Isalgue, Megan Allen, Priscilla Tarrau, Claudia Leon, Kristin Seaman, Katie Greenberg and Sarah Darmanin.
RSL's Hopes of a Disney Showcase Championship Ends with Semi-Final Loss
Early on it looked as if RSL u-18 girls would continue their amazing Showcase run. Three minutes into the game Chelsea Klotz dribbled the ball to the end line where she would beat the Albertson Fury defender around the corner and to the near post. Klotz sent the ball to the middle of the box to Tishia Jewell. Jewell one timed the ball past the Albertson keeper for the quick score. That would be the last real opportunity in the game for RSL. more
RSL Rolls into Showcase Semi-Finals
After a shaky ending in their first game where they blew a 3 to 0 lead with 20 minutes remaining in the game, the RSL u-18 girls defense has completely shut down any offensive threats in their last two games. They have not allowed any quality shots on goal in the last 180 minutes. more
Clearwater Eliminated from the Playoffs
The #1 Nationally ranked Eclipse Select u-18 girls dismantled Clearwater Chargers 6 to 0.
Eclipse showed why they are the #1 team in the nation. The have great speed and ball control.
RSL Impressive in Win at Disney Showcase
Morgan Sammons had a great night on the defensive end for the RSL u-18 girls keeping Bethesda's quick high pressure forwards from getting around the corner. Bethesda constantly pressured in their offensive third but RSL's back line never allowed them to get off a quality shot on goal. RSL's dangerous offense was also mostly kept in check, but was able to finish on a couple of their scarce opportunities. Noelle Pineiro scored the game's first goal about midway through first half on a great pass she received behind the Bethesda defense. RSL's second goal was a beautiful 25 yard strike by Brooke Williams over the leaping Bethesda Keeper. The game ended with RSL winning 2 to 0. With the win RSL just needs to win or tie today to move on to the semifinals on Saturday. RSL will play CASA Boca Jrs from California at 2:30pm Friday on field 2.
Clearwater Unable to Find The Net In First Showcase Game
Clearwater u-18 girls keep their playoff hopes alive with a scoreless tie with Davis SC Legacy from California. The game was mostly a defensive struggle with both teams creating very few scoring opportunities. Clearwater's best scoring chance came when Leah Fisher received a pass behind the Davis defense but her shot was defected over the end line by the keeper.
Two Florida girls, Kelsey Mitchell and Alexa Rabborn, were guest playing for a Davis team that is made up of girls from all over the US as only 4 girls made the trip with the team from California.
RSL Starts Strong but loses 3 to 0 lead
RSL u-18 girls opened the scoring early when Chelsea Klotz scored off a Kayla Bala pass. Bala would score a goal of her own about 5 minutes later. RSL took a 2 to 0 lead into half time against the #4 nationally ranked FC Milwaukee Blue. 10 Minutes into the second half RSL looked liked they would run away with the victory when Ana Cate would rip the third goal from about 40 yards over the outstretched arms of the Milwaukee keeper. Shortly there after FC Milwaukee stepped up the pressure and scored 3 unanswered goals to tie the game. With 3 minutes left RSL's Noelle Pineiro made a great move to beat her defender but her shot would sail wide right. The game would end in a tie. RSL is still in great position as the other teams in their bracket also tied. RSL's next game is at 7pm Thursday on Disney World field #1.
Weston Wild U14 girls win classic
Plantation girls win soccer classic
Ocala set to host youth soccer tourney
Ocala will play host to a major youth soccer tournament next month, drawing teams from all over the southeastern United States.
FYSA Breaks Gound On State Soccer Complex
The expansion from the three soccer fields that are there now is expected to make a $50 million impact annually on the local economy, said Marc Zimmerman, the county's sports marketing sales and events manager.
The 250-acre park on Berkley Road is expected to cost $14.2 million and will include:
Eight soccer fields, including an international-size stadium with at least 1,500 seats. The cost is expected to be $5 million. more
US Youth Soccer National Championships Highlight Show Premiers this Saturday
On Saturday, August 9 at 1 p.m. ET, the 2008
US Youth Soccer National Championships
will be featured on Fox Soccer Channel during the two-hour US Youth Soccer National Championships Highlight Show presented by adidas.
The highlight show features game footage from all 12 championship matches from Saturday, July 26 and Sunday, July 27. In addition to game footage, teams from all around the country will be highlighted through feature stories that will give viewers insight on what it feels like to be one of the
top 56 teams
in the nation.
more
August 6, 2008
Rakestraw, Jordan Make College Commitments
reported by tbo.com
Plant High rising senior Lexi Rakestraw and Bloomingdale rising junior Jordan Johnson have both made decisions on their futures according to RSL Florida coach Jim Cote.
Rakestraw will attend the University of Colorado in 2009, while Johnson will go to Florida State in 2010.
Rakestraw had eight goals and four assists for Plant last season as the Panthers went to the Class 5A Region quarterfinals. Johnson was part of the Bloomingdale team that reached the Class 5A Region semifinals.
Both players play for the RSL Florida under-17 team that qualified for the United Soccer League's Super-Y North American Championships on Wednesday with a 10-1 win against Schultz Academy. The Finals begin on November 21 at locations around the bay area as part of the USL's SoccerFest.
2008 SUPER Y RANKINGS
July 19, 2008
2008 ODP Region III Pool Players from Florida
RSL Florida U17 Girls Continue Hot Start
RSL Florida continued their early domination of the division the next day with a convincing 5-0 win over Sunrise FC. RSL was never really threatened in the game and cruised to another easy victory. They have now outscored their opponents 17-4 on the season and appear well on their way towards a division crown. RSL Florida continues Super Y-League play on Sunday, July 20 when they entertain West Pines United who is 2-2-1 halfway through the season. more
July 9, 2008
West Pines Leads Southeast U13G
Team rebounds from loss to Miami Strike Force, reels off five in a row
West Pines United U13 Girls continued their winning streak this past weekend with wins over Kendall Soccer Coalition (3-0) and the Weston Fury (3-0). The team now leads the Super Y Southeast Division with almost a perfect record of 6-1-0. Pines came out strong in their season opener, outscoring a very talented Schulz Academy 3-1.
RSL Falls In Southern Regionals Quarterfinals

June 26, 2008
RSL Florida's girls under-16 team conceded a first half penalty, and then a second within the first minute of the second half as it fell 3-0 to the AFC Lightning from Atlanta in the quarterfinals of the Southern Regionals Soccer Championships on Monday night.
15 minutes into the first half, RSL goalkeeper Jordan Hatton challenged a Lightning forward for a 50/50 ball. After a collision between the players the referee awarded a penalty, which the Lightning converted. The score remained the same until halftime, but despite being down, RSL coach Jim Cote said his team thought they were still in the game.
"I think they played a little timid," Cote said. "At halftime we talked to them, and the girls agreed they thought they could get this done." more
More Florida Girls Soccer Club News